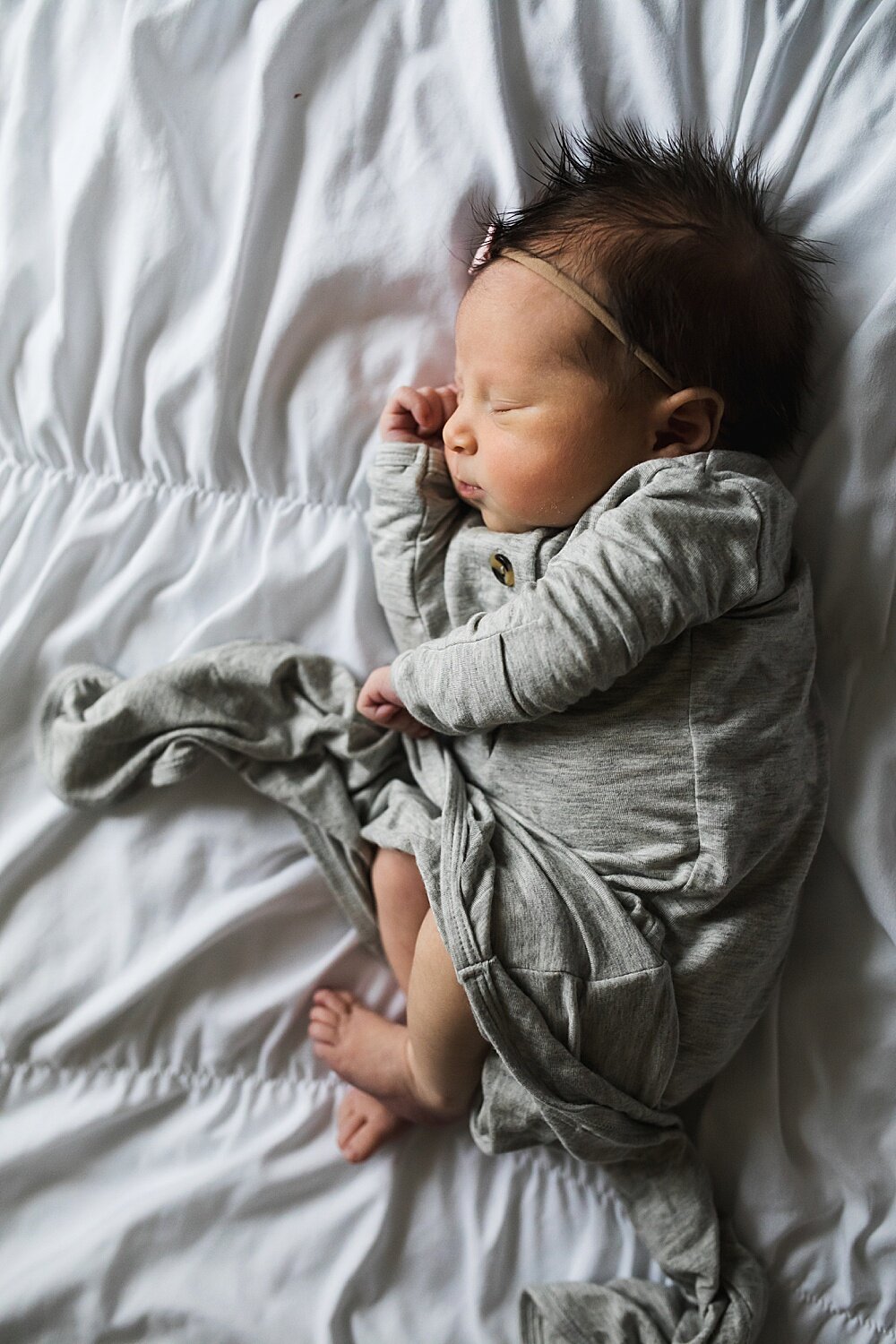 You're expecting a baby girl! Congratulations! Having a girl is so wonderful and special. (I have 4, so I might be a little biased!). When you found out did flashes of pinks and purples, floral patterns and, lace and bows, fill your head for baby girl photos?
As you prepare for your in home, lifestyle newborn photo session, what you dress baby girl in does matter. The goal is to highlight her and her details, not photograph outfits. So let's chat about how to dress your baby girl for lifestyle newborn photos that you'll cherish forever.
Before we get specific, it's important to remember that a well-fitting outfit is key. If the outfit is too big it can look sloppy and your baby can get lost and overwhelmed in the photo. While sizing up and growing room is great for life with kids, having something fit more snugly will make for better photos. (At the end of the article I will share a couple of my favorite places to find something beautiful for your newborn portraits).
Dress baby girl for newborn photos in neutral colors.
There is nothing more classic than white, cream, tan, grey, or other neutrals. While this may seem "boring" the clean and classic feel will create timeless feeling photos. It will also help reduce the appearance of their redder or more yellow skin that fresh babies can have. (Think about how pink can make baby look redder than she really is).
I know, I know, you wanted feminine. There are plenty of ways to still give your baby girl a feminine feel. But remember, we are photographing her, her tiny details, your love for your, your family, not the frilly outfits.

If you want a more feminine color, keep the shade and her skin tone in mind.
If you have pale-skinned babies a pale pink can wash baby out. Instead, consider a deeper shade of pink. If you have dark-skinned babies, a pastel can look beautiful. Creating contrast will help your baby girl to stand out and not her outfit.
As always, avoid neon or overly bright colors when dressing baby.
Bright, or neon colors, will distract from your baby girl. In the photo, your eye will immediately go to that neon pink onesie instead of your daughter's beautiful face and details. Bright colors also reflect light tinted in the same color as the outfit. So a bright pink onesie will give her skin a bright pink look. Again, see above for how to select a neutral or color that works well for photos.
Try a subtle floral print swaddle to add those touches for your baby girl's photos.
Keeping baby girl in something more neutral but having a swaddle that can be added and removed easily will give you some of that more feminine feel to your photos without overwhelming baby. Swaddles are easily changed out and removed to give your gallery a variety in look and feel as well.
Keep baby girl's accessories petite and minimal for photos.
I'm sure you're excited for all things bows and headbands. I know I was!
But, size matters!
Large bows can take over her entire head and face, again overwhelming baby. They can also date the photo (imagine glamor shots for your baby girl). Instead, keep it small and petite. They are tiny babies, a tiny bow is all that is needed.
Here fit matters too. Too big and it will constantly be falling off or falling into her face. Too tight will leave marks and be uncomfortable for your baby. We don't want either of these things for your baby girls' photos.
So where are the best places to find outfits for your baby girl's photos?
A few of my favorite places to find outfits for newborn photos (and everyday life) are:
LouLou and Company – Adorable gowns and top and bottom sets in plenty of neutrals and every other shade you may think of. (Bonus, they name each color print a baby's name, giving you naming ideas for baby girl!). They also have buttons that allow you to slip the gown from bottom up, instead of going over her head.
Loved Baby – They sell cozy sleepers in tiny sizes that fit well for tiny babes. They have many colors and a clean fit.
Copper Pearl – They have super soft swaddles and plenty of print options for you to choose from.
Looking for more ideas, inspiration, and information about lifestyle newborn photo sessions?
Check out my Newborn Sessions Page. Ready to book your Seattle area newborn photography session? Contact me to get started.