The number one thing that can make or break a photo is light. This applies whether we are talking about indoor or outdoor photography.
Using light well, you can make a photo that is much more magical. Light can add to a moment, enhance a family, and highlight where you want the viewer to focus.
As you work to become a better photographer, learning to see and use light well will elevate your photographs, leaving you even more proud to show off your work.
Taking photos outdoors is wonderful as there is plenty of light available, giving you the flexibility to lower that ISO and increase that shutter speed. Plus, what better backdrop to capture photos of families or your kids than in the great outdoors?
Below I'm sharing my favorite three ways to use light outdoors for better photos. Plus, I'm giving bonus tips for each type of light so that you can avoid simple mistakes and get to using these forms of light well right away.
Bonus Tip: No matter how you are going to use light outdoors, it is always best to do it when the sun is low in the sky. This could be early morning or in the evening. When the sun is too high in the sky you'll have dark shadows and hot spots in your images. This is why I hold all of my family photo sessions 1 to 2 hours before sunset.
Okay, let's jump into the best types of light for outdoor photography.
The most beautiful outdoor photography light is backlight.
Backlight is when your subject is between you and the sun. The sun is lighting them from the back, hence, backlight. Backlight can range from intense, to filtered through the trees, to subtle. It also creates this beautiful rim light around your subject, making them stand out in the frame. Backlight is one of my most favorite things when it comes to outdoor photography.
Bonus outdoor photography tip: Play around with how much sunlight you let into your lens but adjust your angle to the sun and position to your subject. For instance, angle down more on your subject to let in less sunlight, or get down lower to let in more. Move side to side seeing how the light changes as you move.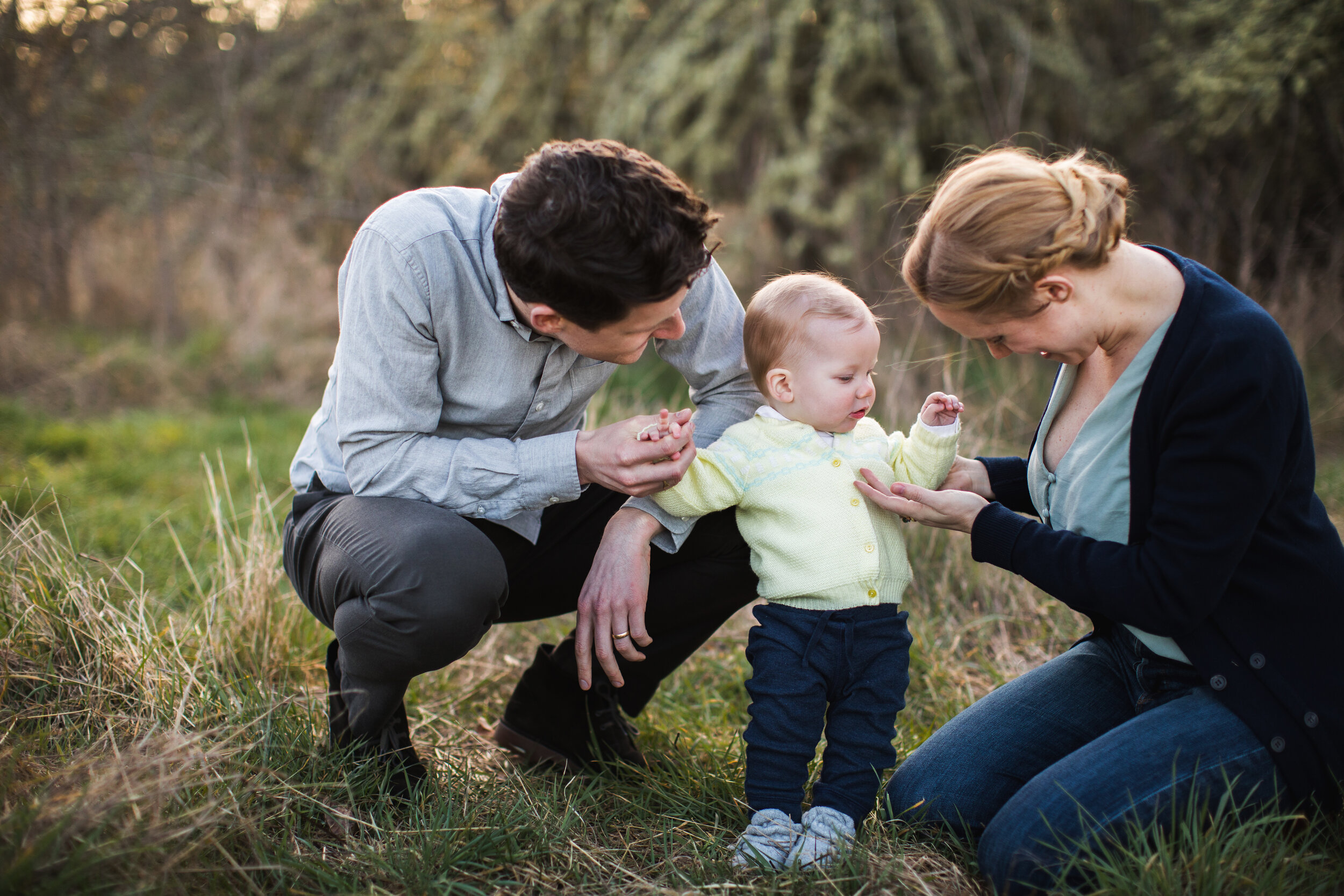 Another type of light to use when practicing outdoor photography is open shade.
Open shade is one of the easiest ways to use light outdoors. Open shade is when your subject is fully in the shade, however, near the edge of the shade open towards the sky. Instead of your subject being in deep woods, or between buildings where none of the brighter light is hitting them, your subject will be in shade close to the border of where the sun meets the shade. The reason this is the easiest light to use is because it is even and you are not having to worry about having too much haze or sun flare like when you're shooting backlight.
Bonus outdoor photography tip: Avoid having open shade next to brightly sunlit grass. The sunlight bouncing off of the green grass will bounce up onto your subject creating a green color cast. No one looks good with a hint of green skin! (Well, except maybe Elphaba….)
#3 Full sun makes beautiful, bold photographs.
To shoot in full sun, you will be between the sun and your subject. The sun will be shining directly onto your subject. Full sun photos are full of bold colors, dark shadows and bright blue skies (if the sky is, in fact, bright blue).
Even if the sun has just set (called blue hour), but facing getting that sun (or where it set) behind you and letting all the remaining light of the day shine onto your subject, you can create beautiful portraits. This often allows you to get gorgeous sunsets along with your subject as well.
Bonus Tip for Outdoor Photography: This is not the time to try for everyone smiling at the camera as the sun will be bright in their eyes. Instead, let the kids play, or have everyone love on each other.
Start paying attention to light and how it impacts your photos.
Incorporating different uses of light within a series of photos can add interest and impact.
Discover more photo tips to help you take better photos of your kids.